- Case Study -
Next PR
To build the executive profile of Vice President Shannon Tucker, the Next PR team launched a paid media strategy to share her PR knowledge with current and prospective clients.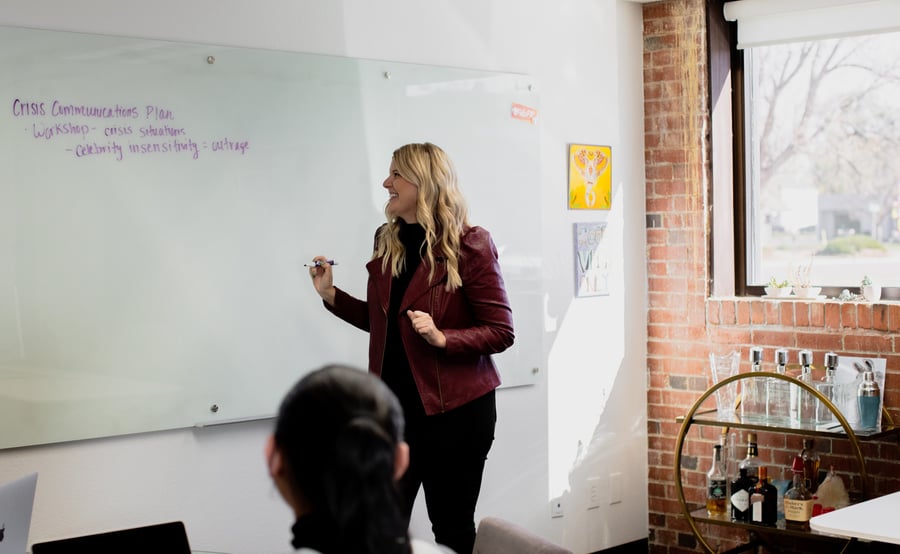 THE CHALLENGE
Next PR wanted to elevate its senior executives in the media to show their knowledge and build the firm's profile. To complement ongoing earned media efforts, the team decided to pursue a paid membership for Tucker in Fast Company's Executive Board.
The platform guaranteed Tucker could publish articles educating audiences on PR and its importance for brands. Posting articles was step one, but the key to success was leveraging the articles after they published to increase awareness and drive leads.
HOW WE GOT THERE
First, Next PR made sure Tucker's Fast Company profile was posted everywhere – linked in her email signature and LinkedIn page, added to her bio on the Next PR website and included in every new business proposal she sent.
From there, the team focused on content, ensuring SEO keywords were embedded in every piece to help Tucker's articles rank for terms like "crisis communications" and "top-tier media."
Every backlink placed in articles was strategic, linking to data from startups more likely to notice and share to their own networks. Each article was written in tandem with a specific focus and service Next PR offers (influencer relations, crisis communications) to ensure all marketing content coming from Next PR's owned channels was aligned.
After the pieces published, Next PR and Tucker continued to share each article on social media throughout the year to extend their lifecycle. The team reposted strategically and tied Tucker's pieces to timely news events (i.e., sharing, "Crisis Communications Management: 5 Mistakes To Avoid," in the wake of the Kanye West and Adidas scandal).
By tagging influential PR thought leaders in the posts, the team also sparked dialogue and more engagement.
THE RESULTS
Since Tucker became a member of Fast Company's Executive Board, she's doubled her LinkedIn followers.
Her top-performing article, "So You Want to Be Featured in National News? Here's How," received more than 23K impressions, 151 reactions, 34 comments and 13 reposts on LinkedIn. Fast Company named it as an Editor's Pick, spotlighting it in front of other industry professionals when they logged into their membership portal.
The articles have been read by prominent industry players, including one college professor who said, "I am going to include your article as part of my curriculum next semester." In seeing her use of Propel data in an article, the co-founder of the Propel brand reshared the article to his 2,000 followers, resulting in more than 200 engagements.
Tucker's pieces are regularly shared in Daily PR Brief, a weekly newsletter reaching more than 5,000 communications professionals.
The Fast Company Executive Board membership has also resulted in lead generation with several existing clients inquiring about additional services after seeing Tucker's crisis communications and influencer relations articles.